The latest technologies are used in Fullchamp's manufacturing equipment, which also passed the third-party standard certification; customers and partners can trust our quality. We are also accredited by international automotive companies and certified to the latest quality systems, such as the following qualified suppliers : Daimler Group, VW Group, and FCA Group, and quality systems : ISO 9001, IATF16949, AS9100 and NADCAP. We aim to provide high quality products with innovation through multiple standard inspections.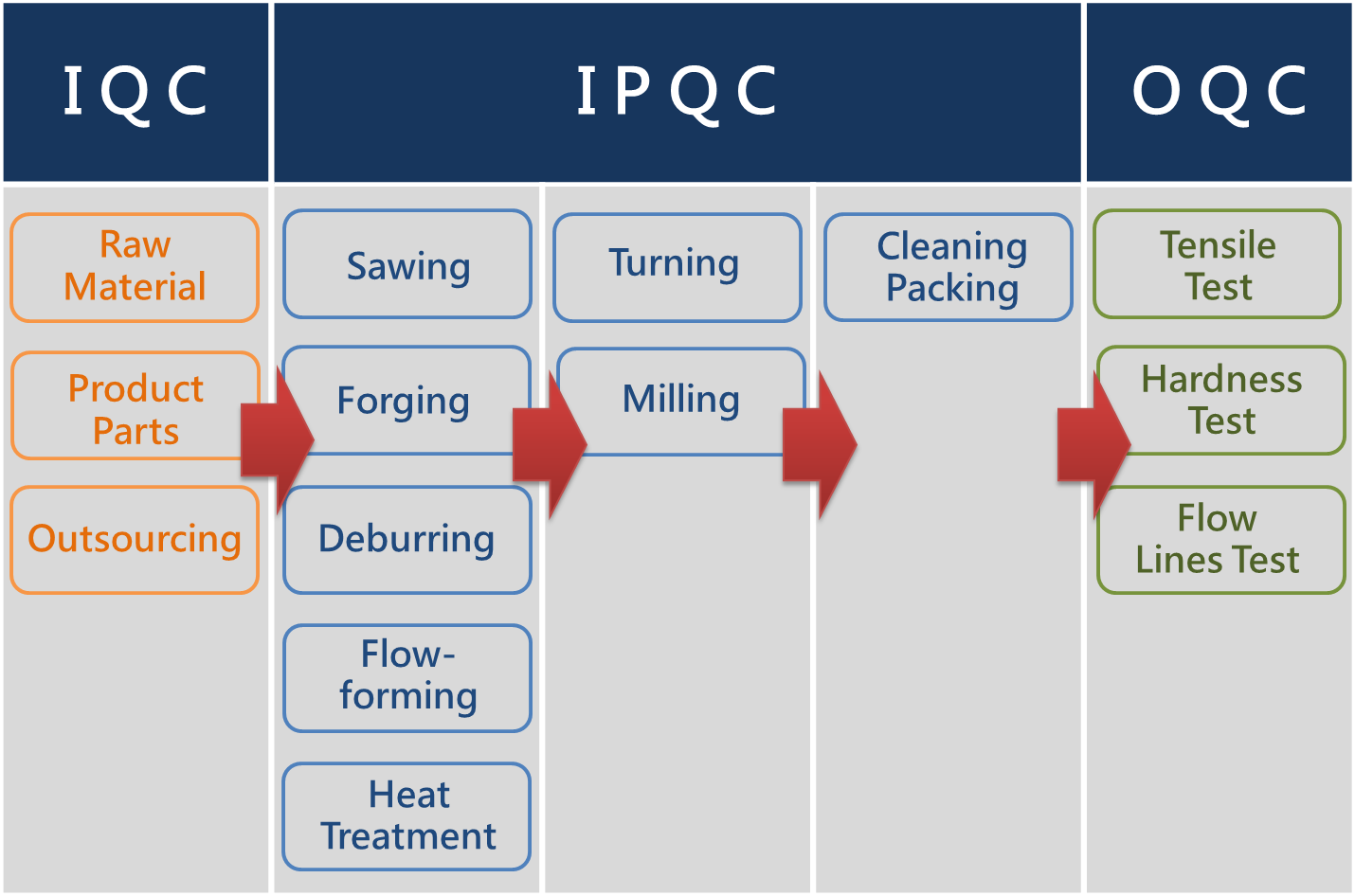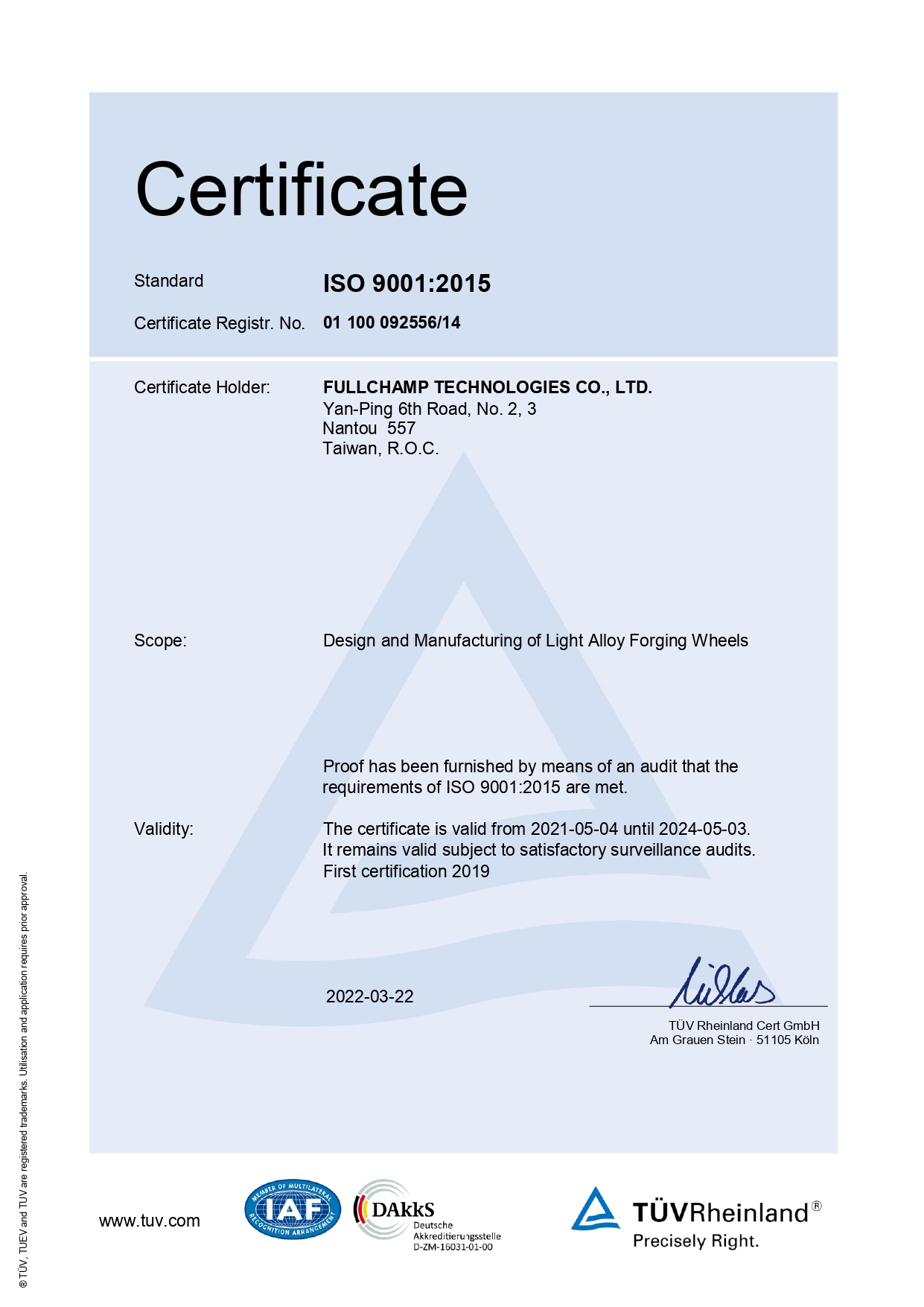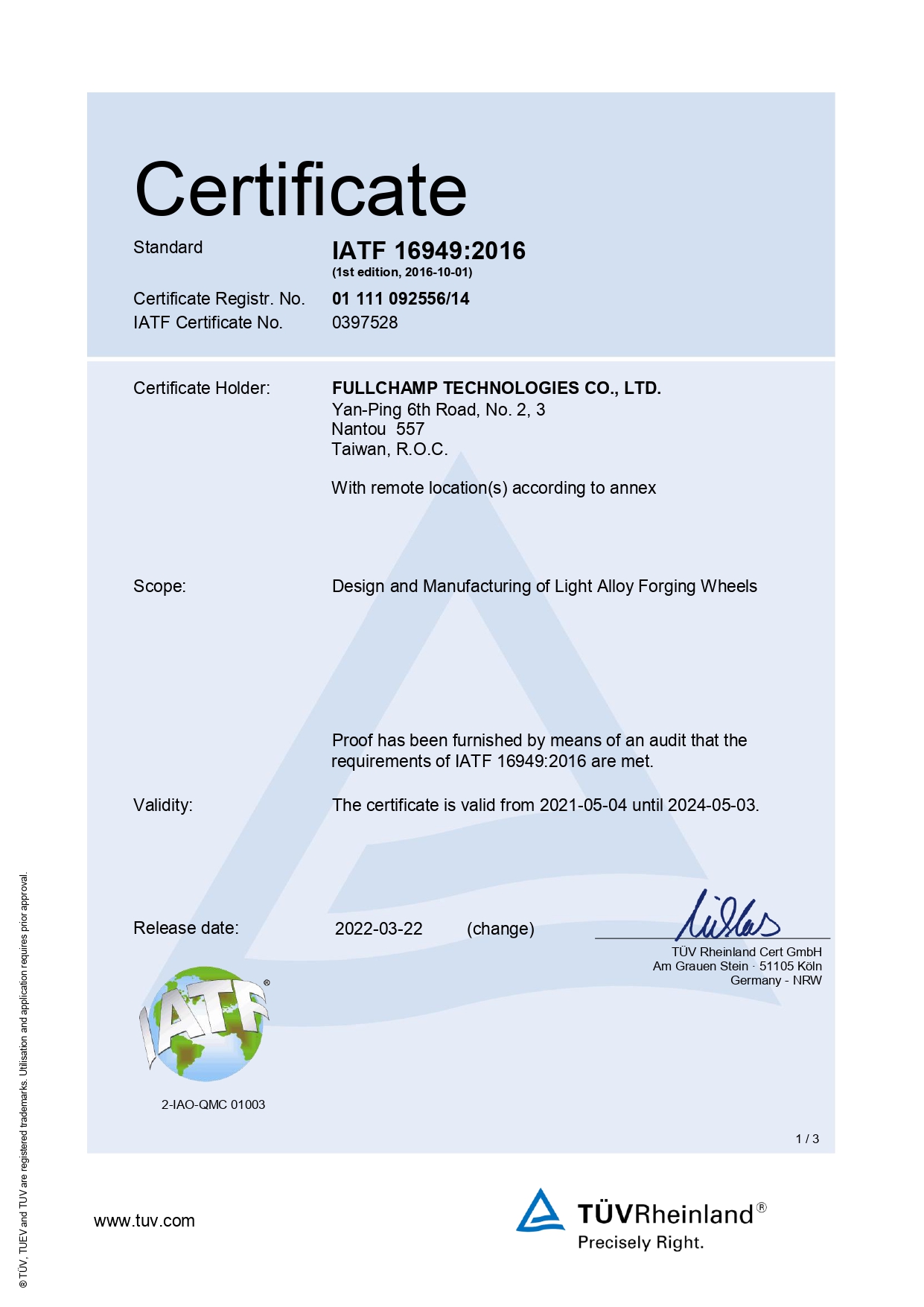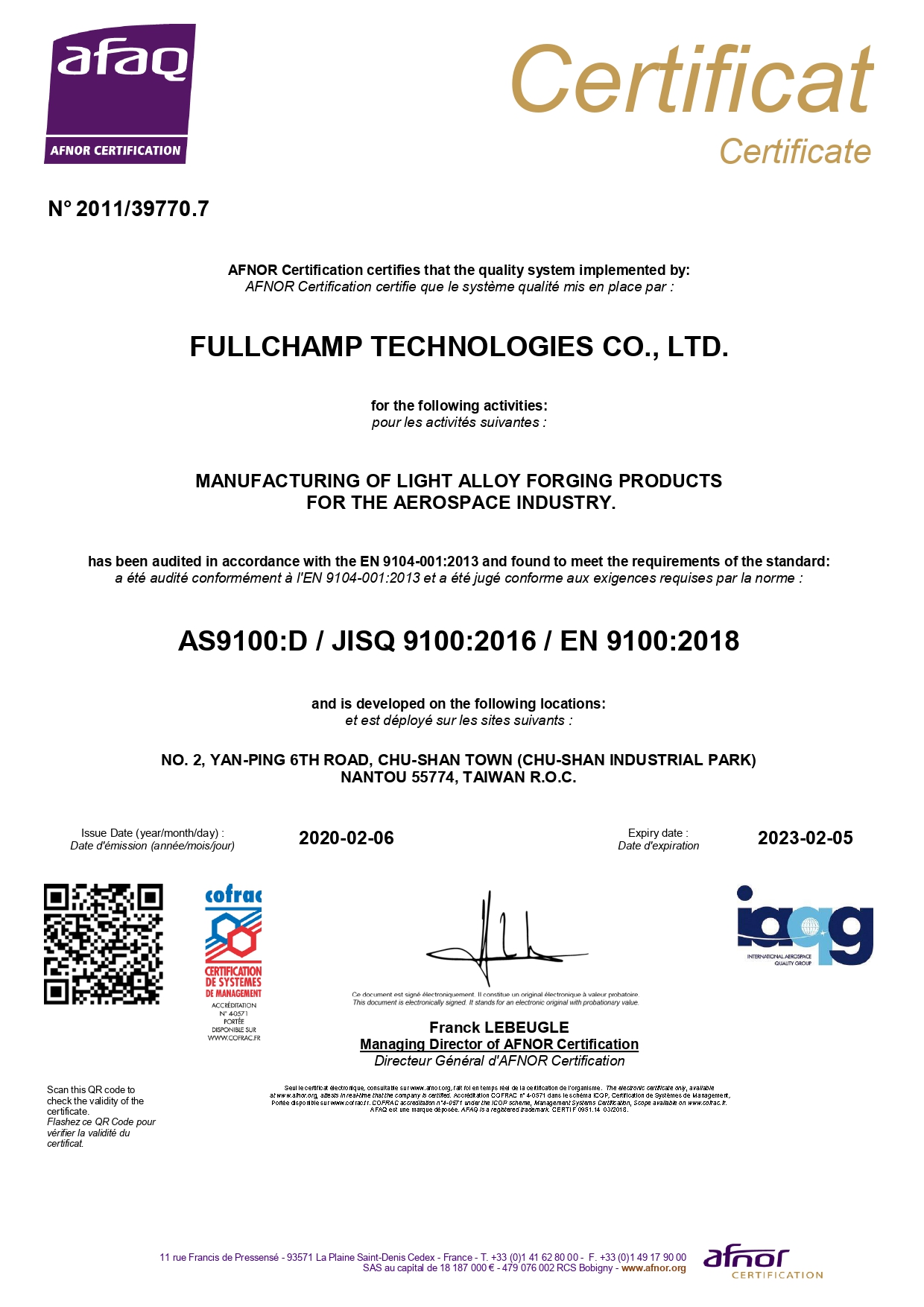 Blanking

Wheels are made of premium aluminum alloy from Dubai with an exclusive formula.

Forging

With the largest 12,000-ton hydraulic forging press in Asia, gigantic aerospace products up to 50 inches can be produced.

Rotary Type

With the top-level large rotary machine made in Germany, the strength of the product materials can be reinforced to produce lightweight forged wheels with high loading capacity.

T4/T6 Heat Treatment

NADCAP-certified heat treatment equipment can be used to strengthen materials at the aerospace level.

Lathe

High quality products can be manufactured via precision and advanced equipment, along with our outstanding experiences in manufacturing wheels.

Milling Machine

With the cutting-edge precision five-axis machine from Europe, high accuracy of each wheel's roundness and balance are achieved.

Automatic Wheel Production and Processing

Fullchamp develops and designs its own products; a fully automatic manufacturing process of truck wheels is introduced into its operations. With lathes, milling machines, and manipulators, an unmanned process can be conducted, whereby the most stable and highest quality products can be produced.

Quality Management

Our quality meets the IATF16949 standards, guaranteeing that we can provide our customers with OEM-level quality products.

Cleaning

With the brand-new automatic cleaning machine, wheels can be transported and cleaned by automatic hanging equipment, which can form a protecting coating on them and thus maintain their surface quality.

Polishing

The advanced automatic polishing machine made in Europe can be applied to the production of 16- to 24.5-inch wheels, providing customers with shiny wheel products.

Packaging

A newly designed automatic packaging machine with automatic piling system and human-factors engineering are introduced to its operations to ease staff workload and prevent them from hazard and risk.
Besides safety requirements, the production of wheels further emphasizes visual design and originality. Thus, computer aided design (CAD) is extensively applied in designing wheels. Along with the continuous development in technology, product design is not limited to 2D drawing, but extends to 3D drawing. With 3D drawing, blueprint design can be materialized to meet customers' needs.
The current development process not only includes product design, but also encompasses management control and tracking of trial manufacturing within the entire development process, as well as technology transfer after the completion of trial manufacturing and before the launch of mass production. Classified as a safety product of automobile parts, a wheel is directly related to driving safety; therefore, its safety and stability are particularly important.
The schedule of a safety dynamic test in the general development process of a wheel usually takes about one month. Fullchamp introduces computer-aided engineering (CAE) analysis to its assessment of a wheel's strength and fatigue life after the conceptual design of the wheel, in order to increase the probability of passing the test at one time and also to shorten the development schedule.
Planning and defining projects

Product design and development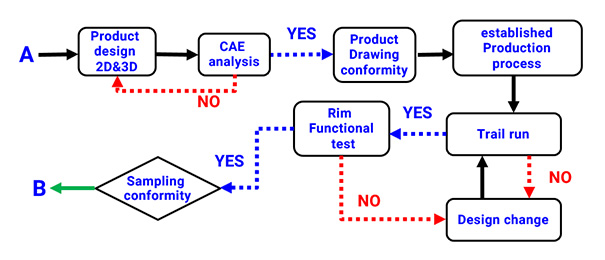 Product and process confirmation
CAE (computer-aided engineering) is an analysis wherein numerical computation is done using a computer's high speed calculation capability to allow a physical model to become discrete into a mathematical model. Boundary conditions and loads are added to the mathematical model in accordance with the actual test status, in order for the computer to start the calculation.

Fuel economy regulations around the world are getting stricter, in order to improve fuel efficiency and reduce CO2 emissions. Statistics show that energy consumption can be reduced by 6% ~ 8% and emissions by 5% ~ 6% when the deadweight of an automobile is reduced by 10%. Moreover, CO2 emissions can be reduced by 2.45 kg when the fuel consumption is reduced by 1L.
In the pursuit of reducing the weight of automotive parts, the automotive industry uses aluminum alloy extensively. A forged aluminum alloy wheel is preferable for the design of a lightweight car since it meets the requirements of a sports car and a commercial vehicle, respectively: high performance and positive economic benefits.
Fullchamp keeps developing a balance in the weight, strength, and safety of its wheel products by optimizing its design, ensuring that the stability and performance of these products are improved. Its latest wheel products are 25% lighter than before; they have also passed TÜV test, one of the strictest tests, whereby customers are provided with safest products.
Fullchamp specializes in forged wheels and has always taken the lead in developing technologies. It uses all types of metals in its products to provide customers with the most advanced and safest products.
The density of magnesium is about 2/3 that of aluminum. It has great vibration absorption capabilities and superior machinability, and thereby is suitable for use in high-performance and lightweight products. Fullchamp has applied its technologies to the development of racing wheels and manufactured various magnesium alloy wheel products.
Fullchamp develops 7 series of aerospace aluminum materials with superior strength. By complying with the aerospace material standards, it provides lighter and more powerful wheel products.
Contact Us
If you want to know more about FULLCHAMP products or services, you are welcome to contact us!